Verrassingen
The English and the Flemish: A Love-Hate Relationship Kindled in Calais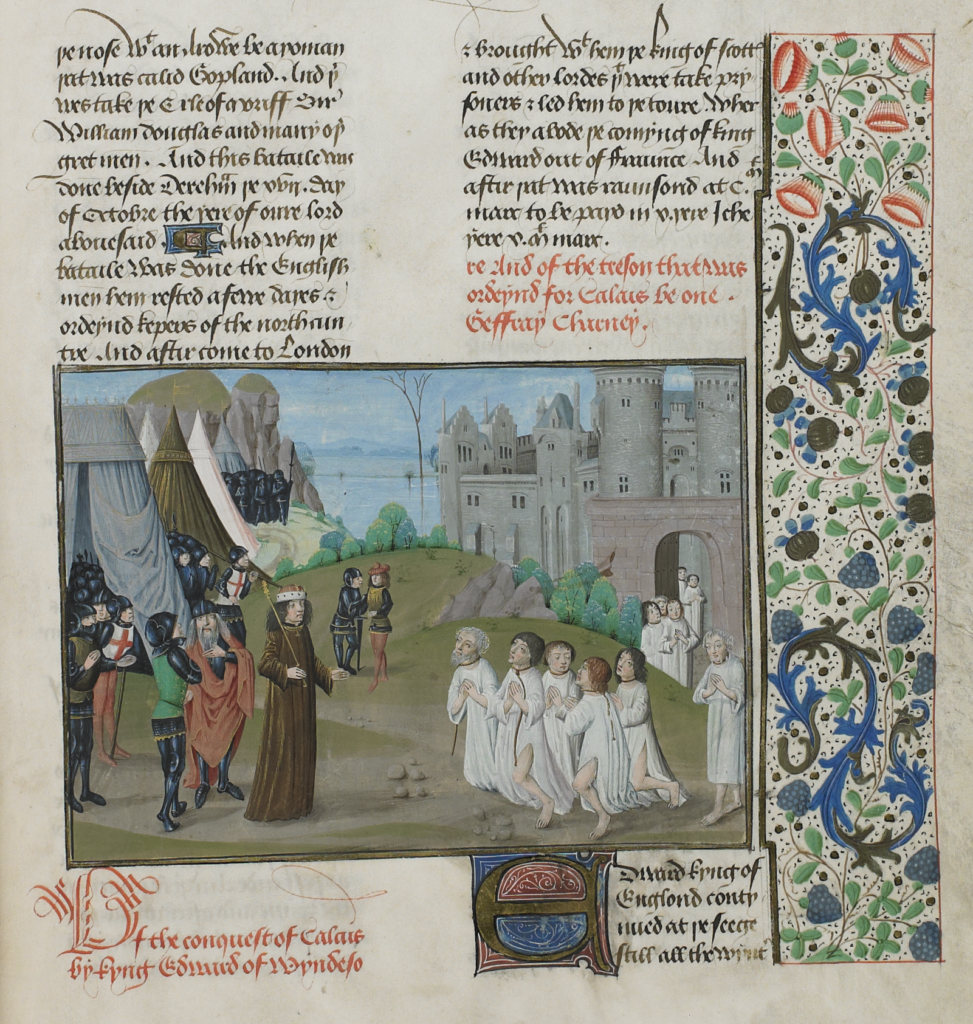 London, Lambeth Palace, MS 6 (c. 1485) captures the ambivalent attitude of the English towards the Flemish. The manuscript contains the only surviving copy of St Alban's Chronicle. This English chronicle, based on the prose Brut, must have been written sometime after Philip the Good's Siege of Calais (1436). From its conquest in 1347 by Edward III (shown standing before the suppliant burghers of Calais in the manuscript illumination) until its loss to France, Calais was an English outpost. In the Middle Ages, the town was still on the Dutch-speaking side of the French-Dutch language border. When it was attacked by Philip of Burgundy, this betrayal by a former ally of the English caused widespread hostility against Flemings. Philip's Siege failed miserably, with the blame placed on the cowardice of Philip's Flemish foot-soldiers. The poem in the St Alban's Chronicle known as 'Mockery of the Flemings' scornfully likens them to 'Cotswold sheep'. Interestingly, it is full of Dutch words (e.g., meskens 'little knives') which have baffled English readers.
However, the anti-Flemish sentiments of the chronicler are strikingly at odds with the manuscript style. The illuminations were commissioned from an atelier in Bruges, with instructions to the artist in Germanic-inflected French (e.g., bot = boat). The main scribe, though almost certainly an Englishman, writes in a Burgundian Bastarda that betrays his admiration for Flemish calligraphy. A coat of arms in the manuscript, showing the device of Thomas Thwaites, Treasurer of Calais from 1483 to 1490, led Anne Sutton and Livia Visser-Fuchs to believe that the manuscript was produced in Calais. Could the same be true for the chronicle and the poem it contains?
Ad Putter
Further reading
Bryan, Elizabeth J. "Deciphering the Brut: Lambeth Palace MS 6 and the Perils of Transmission". Digital Philology 3 (2014), pp. 257-283.
Levelt, Sjoerd & Ad Putter, De Noordzee over en weer: Het literaire erfgoed van Nederlands-Engelse betrekkingen, 1066-1688. Amsterdam University Press, 2022.
Sutton, Anne and Livia Visser-Fuchs. "Choosing a Book in Late Fifteenth-Century England and Burgundy". In: Caroline Barron and Nigel Saul (eds.). England and the Low Countries in the Late Middle Ages. Sutton, 1995, pp. 61-98.
Image
London, Lambeth Palace, MS 6, fol. 218r, reproduced by kind permission of Lambeth Palace Library.
Other surprises